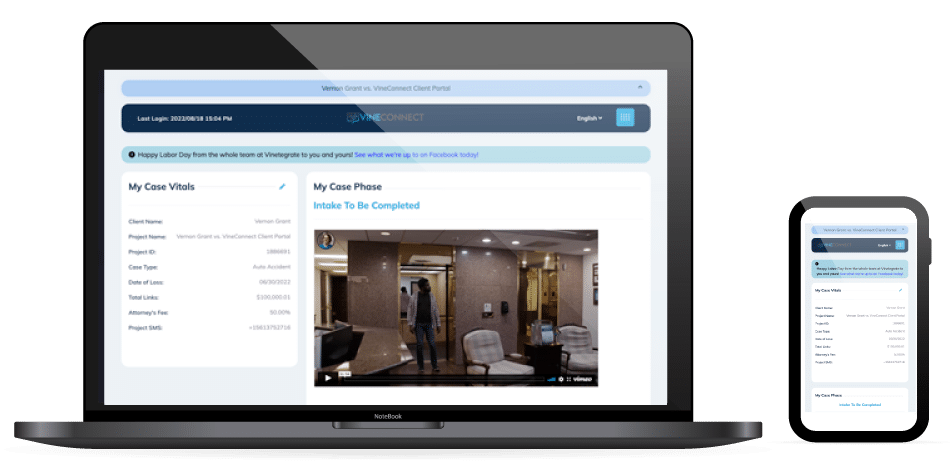 INTRODUCTING
A BETTER CLIENT PORTAL FOR FILEVINE.
Our founders, Tom and Craig, wanted to use new technology to solve an old problem: Give their clients just the right amount of access to their case progress to reduce time-wasting and pestering phone calls. They were amazed to discover that though 'case status' and 'client portal' solutions exist, none of them are built specifically for Filevine, and as a result, none are very good.
So they built VineConnect™.
VineConnect™ automates client communications and updates, multi-location Google review requests, painstaking repeatable workflow tasks, and so much more. For clients, the front-end portal is simple and secure to access which keeps them coming back. Customize every aspect of their experience with our intelligent administrative tools, including controlling what information they see and when.
With affordable pricing plans, 1-time configuration that is either self-guided or managed by our dedicated team, a 30-day no obligation free trial, live support, and a consistent release of rich new features, there's no reason to go anywhere else for your client communication needs. True Client Portal innovation starts here. We've designed a secure front-end portal for your clients that is easy to access, navigate within, and return to in the future. Your clients will never have to download an app or create a username or password.
Importantly, our unique multi-factor authorization method effectively secures against impersonation or brute force attacks. Cleverly, we don't store client data on our servers, so we're no low-hanging fruit for data thieves.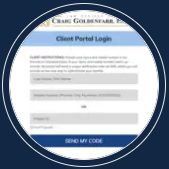 Your clients will provide their name and mobile number to login, and our system matches the information provided to a Filevine project.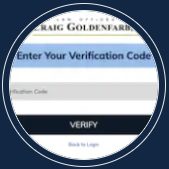 If the system finds a match, a one-time code is sent to the client's mobile device as a 2-Factor Authentication (2FA) step. Any mis-mtaches are rejected by the system.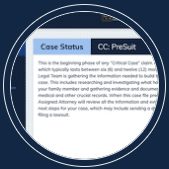 The client is granted access to the Client Portal, allowing them to browse the phases, timeline, receive critical messages, and see their legal team.
POWERFUL FILEVINE AUTOMATIONS
Simplifying repetitive work is at the heart of VineConnect's purpose. You can automate SMS communications that keep your client coming back to and engaging with the Client Portal. Our sophisticated Review Collection system allows you to spread your 5-star reviews across multiple Google My Business profiles. And with Workflows, you can use preset Triggers and Actions to intelligently do more work with less. Best of all – you stay working in Filevine, reducing 'app clutter'!
AUTOMATED TEXTS
Keep your clients engaged with Client Portal and your company at all times.
MULTI-OFFICE REVIEWS
Boost reviews across your multiple GMB office profiles or other review sites equally.
NEW! Workflows
A system for mapping preset Triggers & Actions that listen to Filevine and execute.
Forget building your own app – VineConnect does what you're looking for and more. Check out our latest webinar to see a live demonstration of our software in action. This webinar was last recorded in February 2022. Below is a short list of features that have been released since then, and we release major new features approximately monthly.
New Feature Releases Since February 2022
Mass Text Messaging Tool  |  LaunchPad Checklist & Planner  |  Custom Timeline Templates & Phase Title Overrides
Text Message Log  |   Team Display Improvements  |  Mass Contacts Uploader
VINECONNECT CORE FEATURES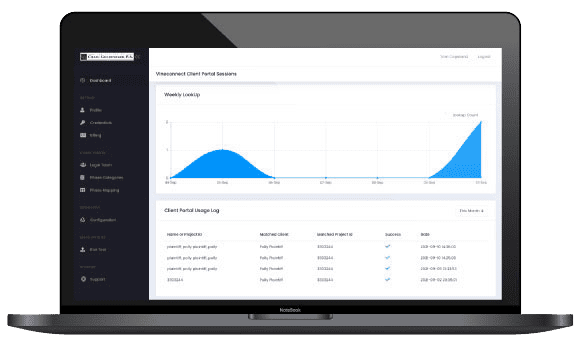 User Dashboard
See which clients are logging in and interacting with the Client Portal. Help them troubleshoot login issues.
1-Time Configuration
Config your setting just once, and let the power of VineConnect's integrations and automations do the rest of the work!
Subscription Billing
Fully integrated with leading payments provider Stripe, enjoy convenience, flexibility, and world-class security.
Legal Team Control
Overide or disable how VineConnect pulls your legal teams from Filevine to display to the client on the front-end Portal.
∞ Project Types
Configure an unlimited number of Project Types so your clients across various practice areas of your firm can access.
Fetch Case Phases
Truly unique to VineConnect is our ability to dynamically fetch your Filevine Project Phases without any manual intervention.
Rich Data Webhooks
If you use Zapier or Workado, you've undoubtedly run into data problems. We solved them with intelligent middleware!
Multi-GMB SUPPORT
Got multiple locations? VineConnect supports automated review request links for multiple Google My Business pages.
Helpful Support
We're constantly striving to make tools & feature that just work, reflected in our documentation & dedicated support.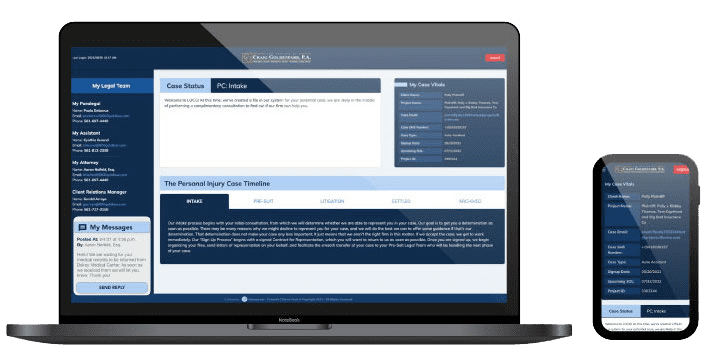 2FA Security
Secured by 2FA, Client Portal is accessed without the need to download an app or register accounts, which means higher adoption and usage by clients.
Case Timeline
The core of Client Portal's fully automated integration with Filevine is the Project Type Template timeline. Configure it just once for each project type your firm uses.
Integrated Phases
Client Portal automatically pulls the Filevine Project's phase on login, eliminating the need to update two apps. Now that's true Filevine integration.
Responsive Design
Client Portal is completely web-based, so of course it's 100% responsive and accessible from any device and any browser, at home or on the go.
Firm Branded
Keep it professional by branding Client Portal with your firm's logo. Impress your clients, create a "big firm" feel, and keep all the credit to yourself. You deserve it.
Legal Team & Vitals
Give your clients just the right amount of information they care about - like who their legal team is, important date and case vitals, and contact information.
Automated Texts
Let Client Portal notify your clients when something important has happened in their case, boosting retention and usage and eliminating the repetitive phone calls.
Alert Messages
Push high-level alert messages into Client Portal from Filevine when you need to get the client's attention and receive any replies comments - without leaving Filevine!
Team Feedback
Get rich, contextual client satisfaction feedback about your specific employees and the service they are providing - and respond quickly to issues when they arise.
Simple, Transparent
Pricing For Every Filevine Org
Our pricing is based on the number of active cases your firm has in your Filevine Org. All of our plans include dedicated implementation & live ongoing support.
Our self-managed plans allow you to sign up and start using VineConnect right away if you have less than 1,400 active and archived projects. More than 1,400 projects? Great – VineConnect is built to scale! We'll simply need to schedule a consultation to set you up with one of our volume pricing plans. Contact us to get started!
Why VineConnect is the obvious choice for a client portal & automations solutions:
NO set-up, implementation, or cancellation fees
With a 

FREE 

30-day trial and 

FREE 

implementation support, there's nothing to lose in trying it
NO long-term contractual commitments or financial obligations up-front
Flexible, affordable monthly plan pricing that isn't going to 

unexpectedly

skyrocket on you
Billing plans cover 1 Filevine Org with unlimited project type template support

Upgrade or downgrade your billing plan as you grow

VineConnect is not just for law firms – any company operating no Filevine can utilize our software

Max 800 Projects ($0.49/Project)


All Features & Support Included

Max 1,100 Projects ($0.45/Project)

Perfect for Growing Firms

All Features & Support Included


Max 1,400 Projects ($0.42/Project)

Perfect for Scaling Firms

All Features & Support Included


Priority Feature Suggest & Beta

SELF-GUIDE YOUR SETUP TODAY!
In 4 minutes or less, you can register your firm on VineConnect and start the implementation process with our simple, intuitive, guided onboarding.
And if you do happen to get stuck, don't worry – our dedicated product managers monitor our live support chat at no additional cost. Follow the video below for a quick demonstration.
Request a Demo!
Ready to get started? We offer a complimentary 1-hour demonstration of VineConnect™ to firms live on Filevine.