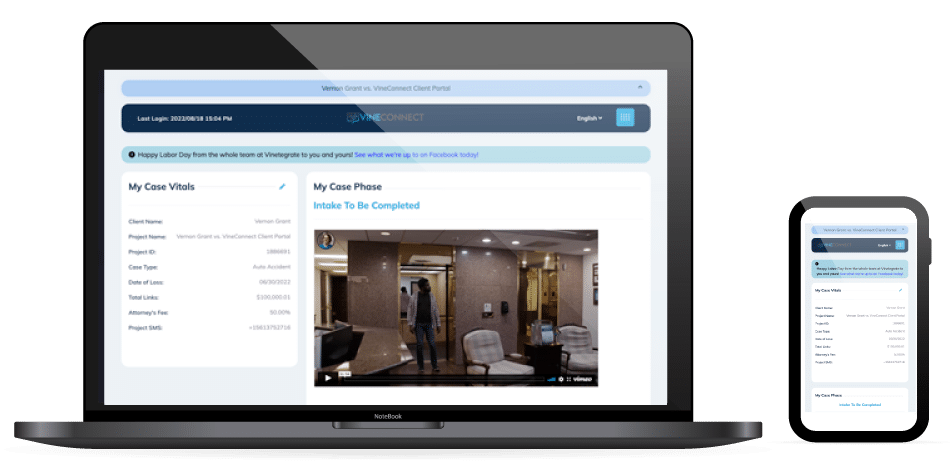 Let's give it to them.
Meet VineConnect®.
VINECONNECT®
A BETTER CLIENT PORTAL AND AUTOMATIONS
TOOL FOR FILEVINE.
Our founders, Tom and Craig, wanted to use new technology to solve an old problem: Give their clients just the right amount of access to their case progress to reduce time-wasting and pestering phone calls. They were amazed to discover that though 'case status' and 'client portal' solutions exist, none of them are built specifically for Filevine, and as a result, none are very good.
So they built VineConnect™.
VineConnect™ automates Client Communications directly from Filevine and leverages the power of Filevine's API to automate common and repeatable actions to extend the core functionality of the world's most innovative legal case management software.
For clients, the front-end portal is simple and secure to access which keeps them coming back. Customize every aspect of their experience with our intelligent administrative tools, including controlling what information they see and when. For Firm Admins and Marketing Teams, it's a powerful automation platform for collecting, storing, and processing data and workflows within the walls of Filevine.
With affordable pricing plans, self-managed or assisted configurations, a 30-day no obligation free trial, live support, and a consistent release of rich new features, there's no reason to go anywhere else for your client communication needs. Ditch the costly, cumbersome competitor client portals – VineConnect™ does what you're looking for and more!
Check out our latest webinar to see a live demonstration of our software in action recorded in Spring 2023.
We release major new features approximately monthly.
New Feature Releases Covered:
Docs Upload/Sync to Filevine | Filevine Forms w/ Data Sync | Expanded Workflows
Mass Texting | Multi-Office Google Reviews

Safe, Secure, and Simple Sign Ins
Updated!
No one wants to download another mobile app, or have to remember yet another username and password. VineConnect™ was created with that fact as a starting point. Our mobile-first web application secured by rigid 2-Factor Authentication (2FA) means your clients - and only your clients - can access their case whenever they want without the hassle.
Document Uploads Syned to Filevine
NEW!
Documents uploaded by your clients from within VineConnect™ Client Portal automatically sync to the Filevine project following whatever logic you define. Create an organization scheme to sync docs to specific template fields or collection sections.
Filevine Forms - Collect More Data
NEW!
Filevine Forms by VineConnect™ is the most innovative way to collect, sync, and store client data to Filevine. Form fields submitted from within Client Portal map back to the project with intelligent logic that supports all custom field types including Collection Sections.
Existing Clients' submissions update the Project.
Public forms create new Filevine projects for automated data collection.
Automated Workflows for Filevine
UPDATED!
Supercharge Filevine and Automate Everything with VineConnect™ Automated Workflows! Tell our platform what to listen for coming out of Filevine - projects creates, specific tasks, button clicks, phase changes - and have VineConnect® take just about any action within Filevine automatically in a no-code, drag-and-drop interface.
With over 20 powerful Triggers and Actions available out of the box, like dynamic mirrored fields, dynamic team assignments, and auto-task completions, you and your legal team are guaranteed to find time savings with our flexible and reliable Filevine automations.
Ditch the bloated cost of Zapier and the complexly of Workato for the easier, better solution of VineConnect® Automated Workflows for Filevine, and start automating today.
Mass Text Messaging for Filevine
UPDATED!
The first to bring mass text messaging to Filevine is still the best in class. With our Mass Text tool, you can create an automated mass SMS job that targets existing contacts in Filevine, segmented by Person Type; or, upload a Filevine Report spreadsheet export. Now featuring detailed delivery logs, job buffers, and more!
Try us for
free

. Seriously.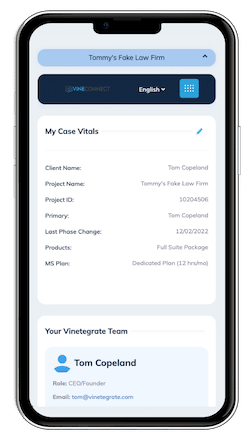 NO upfront fees and NO annual contracts to sign.
That's the difference with VineConnect Client Portal – It's simply the best tool on the market for Filevine at the best price with no strings attached.
FREE 30-Day Trial Including Setup.
We want you to LOVE your new Client Portal! That's why we offer dedicated setup, installation, and support at no additional cost. We'll even help promote your the portal to your clients!
Let's Get Started Today!
POWERFUL FILEVINE AUTOMATIONS
Simplifying repetitive work is at the heart of VineConnect's purpose. You can automate SMS communications that keep your client coming back to and engaging with the Client Portal. Our sophisticated Review Collection system allows you to spread your 5-star reviews across multiple Google My Business profiles. And with Workflows, you can use preset Triggers and Actions to intelligently do more work with less. Best of all – you stay working in Filevine, reducing 'app clutter'!
AUTOMATED TEXTS
Keep your clients engaged with Client Portal and your company at all times.
MULTI-OFFICE REVIEWS
Boost reviews across your multiple GMB office profiles or other review sites equally.
Automated Workflows
Like Zapier, but easier out of the box – map preset triggers and actions for execution.
Simple, Transparent
Pricing For Every Filevine Org
Our pricing is based on the number of active cases your firm has in your Filevine Org. All of our plans include dedicated implementation & live ongoing support.
Our self-managed plans allow you to sign up and start using VineConnect right away if you have less than 1,400 active and archived projects. More than 1,400 projects? Great – VineConnect is built to scale! We'll simply need to schedule a consultation to set you up with one of our volume pricing plans. Contact us to get started!
Why VineConnect is the obvious choice for a client portal & automations solutions:
NO set-up, implementation, or cancellation fees
With a 

FREE 

30-day trial and 

FREE 

implementation support, there's nothing to lose in trying it
NO long-term contractual commitments or financial obligations up-front
Flexible, affordable monthly plan pricing that isn't going to 

unexpectedly

skyrocket on you
Billing plans cover 1 Filevine Org with unlimited project type template support

Upgrade or downgrade your billing plan as you grow

VineConnect is not just for law firms – any company operating no Filevine can utilize our software


Self-Managed with Support

500-1,000 Projects ($0.35/Project)


All Features & Support Included

Max 1,400 Projects ($0.32/Project)


All Features & Support Included



Max 1,800 Projects ($0.30/Project)


All Features & Support Included


Priority Feature Requests

Unlimited Priority Support

REGISTER AND GO LIVE IN
10 MINUTES.
In this 10 minute video, we demonstrate:
→ Register an account (1 minute)
→ Configure Billing (1 minute)
→ Use Launchpad to checklist your basic settings (3 minutes)
→ Deploy AI-powered Timeline Templates (2 minutes)
→ Test and set live your SMS client automations (2 minutes)
→ Test the front end of the Client Portal (1 minute)
Toggle Launchpad to LIVE. Done!
Request a Demo!
Ready to get started? We offer a complimentary 1-hour demonstration of VineConnect™ to firms live on Filevine.