Ditch the plethora of apps and competitor products – VineConnect™ does what you're looking for and more!
Check out our latest webinar to see a live demonstration of our software in action recorded in August 2022. We release major new features approximately monthly.
New Feature Releases Coming Q3-Q4 2022
Docs Upload/Sync to Filevine | Custom Forms Sync to Filevine | Expanded Workflows  | Mirroring Fields | Simple Data Migrator & Mass Data Upload to Filevine
True Client Portal innovation starts here. We've designed a secure front-end portal for your clients that is easy to access, navigate within, and return to in the future. Your clients will never have to download an app or create a username or password.
Importantly, our unique multi-factor authorization method effectively secures against impersonation or brute force attacks. Cleverly, we don't store client data on our servers, so we're no low-hanging fruit for data thieves.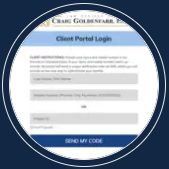 Your clients will provide their name and mobile number to login, and our system matches the information provided to a Filevine project.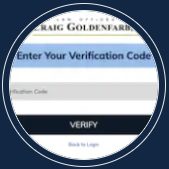 If the system finds a match, a one-time code is sent to the client's mobile device as a 2-Factor Authentication (2FA) step. Any mis-mtaches are rejected by the system.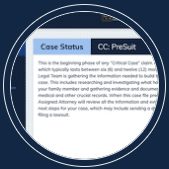 The client is granted access to the Client Portal, allowing them to browse the phases, timeline, receive critical messages, and see their legal team.
POWERFUL FILEVINE AUTOMATIONS
Simplifying repetitive work is at the heart of VineConnect's purpose. You can automate SMS communications that keep your client coming back to and engaging with the Client Portal. Our sophisticated Review Collection system allows you to spread your 5-star reviews across multiple Google My Business profiles. And with Workflows, you can use preset Triggers and Actions to intelligently do more work with less. Best of all – you stay working in Filevine, reducing 'app clutter'!
AUTOMATED TEXTS
Keep your clients engaged with Client Portal and your company at all times.
MULTI-OFFICE REVIEWS
Boost reviews across your multiple GMB office profiles or other review sites equally.
NEW! Workflows
A system for mapping preset Triggers & Actions that listen to Filevine and execute.
Simple, Transparent
Pricing For Every Filevine Org
Our pricing is based on the number of active cases your firm has in your Filevine Org. All of our plans include dedicated implementation & live ongoing support.
Our self-managed plans allow you to sign up and start using VineConnect right away if you have less than 1,400 active and archived projects. More than 1,400 projects? Great – VineConnect is built to scale! We'll simply need to schedule a consultation to set you up with one of our volume pricing plans. Contact us to get started!
Why VineConnect is the obvious choice for a client portal & automations solutions:
NO set-up, implementation, or cancellation fees
With a 

FREE 

30-day trial and 

FREE 

implementation support, there's nothing to lose in trying it
NO long-term contractual commitments or financial obligations up-front
Flexible, affordable monthly plan pricing that isn't going to 

unexpectedly

skyrocket on you
Billing plans cover 1 Filevine Org with unlimited project type template support

Upgrade or downgrade your billing plan as you grow

VineConnect is not just for law firms – any company operating no Filevine can utilize our software

Max 800 Projects ($0.49/Project)


All Features & Support Included

Max 1,100 Projects ($0.45/Project)

Perfect for Growing Firms

All Features & Support Included


Max 1,400 Projects ($0.42/Project)

Perfect for Scaling Firms

All Features & Support Included


Priority Feature Suggest & Beta

SELF-GUIDE YOUR SETUP TODAY!
In 4 minutes or less, you can register your firm on VineConnect and start the implementation process with our simple, intuitive, guided onboarding.
And if you do happen to get stuck, don't worry – our dedicated product managers monitor our live support chat at no additional cost. Follow the video below for a quick demonstration.
Request a Demo!
Ready to get started? We offer a complimentary 1-hour demonstration of VineConnect™ to firms live on Filevine.