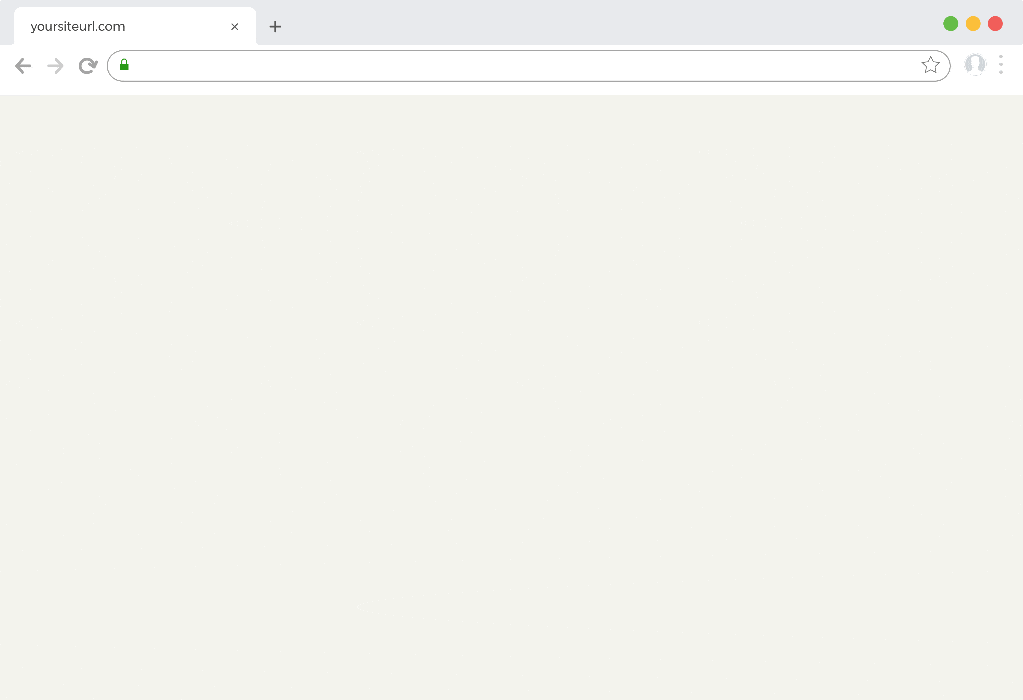 Hitting A Wall With Filevine Development?
"Do I have to customize Filevine?"
"I want everything Filevine has to offer."
"I don't have time to build Filevine right."
"I shouldn't be handling this all myself."
"I need to go live on Filevine faster."
"I need help from Vinetegrate."
How We Took 1 Firm From Months of Aimless Toiling to Filevine Launch in
ONLY 6 WEEKS

.
A Florida Personal Injury law firm was excited to start working on Filevine, but after months of developing their Project Type Template on their own, they were burnt out and still no where ready to launch on the new software.
Their plan? Hire Vinetegrate instead.

Full Suite Package developed in only 3 weeks

Data Migration came in days, not months

Launched on Filevine with just 4 hours training

My law firm switched over to Filevine in early 2021. We needed help with optimizing the system for a personal injury practice in Florida. Vinetegrate helped tremendously by assisting us with developing our template, customizing our forms, and getting up and running on Filevine. Their work saved a ton of time that we otherwise would have spent trying to 'reinvent the wheel'. We are very grateful for his help, and we are now up and running smoothly on Filevine.
Andrew Pickett
Owner, Andrew Pickett Law

I can't say enough good things about the Full Suite we purchased from Vinetegrate. We were using Filevine before, but not to its max potential. The templates not only increased productivity but also provided us a roadmap for how we can grow our small firm into a much larger one.
I would highly recommend it!
Kevin Cheney
Owner, CGH Law Firm

Tom from Vinetegrate took the time to listen to my goals for my firm and helped me problem-solve some coding issues with Filevine. More importantly, he showed me a different view for my setup which ended up working much better.
Bethbiriah Sanchez
Owner, Sanchez Law
Frequently Asked Questions
What is the "Full Suite" package that is referenced throughout the website?
The "Full Suite" is our most popular package of licensed Filevine products, services, and support. The Full Suite package includes a Project Type Template with pre-programmed and fully compatible Merge Docs, Custom Task Flows, and Deadline Chains, all built-for-you in your Filevine Org. We offer Full Suite packages for any practice of law in any state or jurisdiction. Our Full Suite includes dedicated staff training on the template, and a suite of tranining documents and reference materials to help you get the most out of your new Filevine environment!
What is "VineConnect" and why do I want it?
VineConnect Client Portal is a proprietary software-as-a-service (Saas) that full integrates with Filevine. Primary features include a front-end "Client Portal" that allows your firm's clients to see what's happening on their case. Admin features of VineConnect include the ability to customize a case timeline according to your Project Phases (will full Filevine API integration), Client Portal usage logs, a webhooks tool for use with Zapier, autotamted text messages including Google Review requests, a mass contacts upload tool, and much more!
How much does Vineconnect cost?
Our Vineconnet Cleint Portal app is truly unique not only in it's design and functionality, but in our unique pricing model, too. Monthly subscription levels vary based on your number of cases, but start at about $250/month for small to medium sized firms to $350/month for firms with 1,000 cases or more. The best part? Most Bar Associations allow firms to pass software costs through to the client. Apply a monthly cost to your client's files according to how many clients you have ($250/50 clients = $5/month.)
How much does the Full Suite package cost?
For obvious reasons, we don't publish our licensing fees or our proprietary work publicly – but we can promise that the cost is reasonable, and well worth the peace of mind you'll have in knowing that you get to do what you do best, which is providing outstanding legal services to your client, and growing your law firm instead of trying to build complicated case management software.
Do you sell the components of Full Suite individually?
Yes! Sometimes we have firms who are happy with their Project Type Template, and they just need help programming Merge Docs and Report Fusions, or designing and building a robust Task Flow system. No problem…that's what we do best! The first step is to schedule a demo so we can talk about your needs, identify the appropriate Vinetegrate solution, and quote you with a formal proposal. Then we get to work!
Can you help me create custom integrations for Filevine?
Absolutely! Software integrations are the backbone of Web 2.0 and the future of how law firms will work most efficiently today, and tomorrow. Our founders and developers of VineConnect Cleint Portal not only have extensive experience working within the Filevine API, but we've even helped advised Filevine's dev team on API features and service improvements. We may even have the record for "most bugs discovered" because we've done so much work within the API. OK, maybe that one is a stretch…but the point is, we love building custom integrations, apps, services, and solutions on the Filevine API. Let's do it for you, too.
VINECONNECT CLIENT PORTAL
 VineConnect automates actions and text (SMS) communications from Filevine to a standalone Client Portal using Filevine's robust API. With no apps to download or passwords to create or remember, it's the easiest way to keep your clients connected to their case, their legal team, and your firm – and the best part is your legal staff continues their work in Filevine uninterrupted.
VineConnect is fast, secure, and affordable! If you run on Filevine, give your clients a better overall experience with VineConnect Client Portal. Register for free today!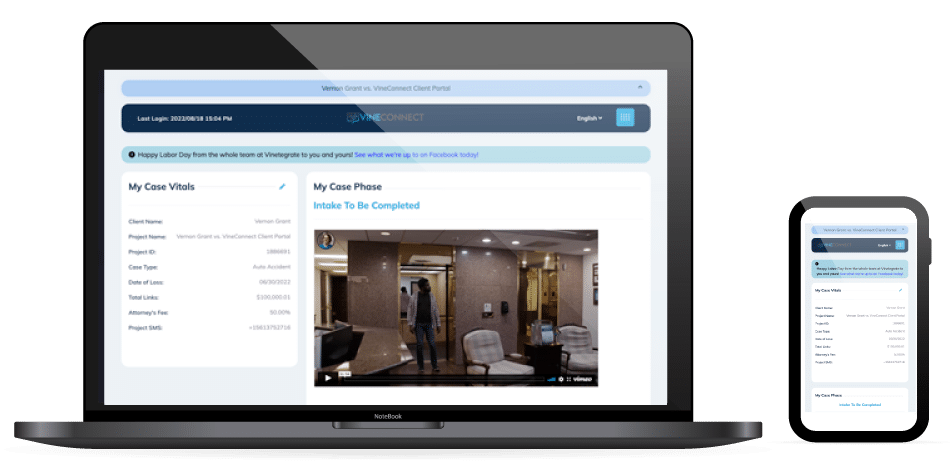 VineConnect™ Client Portal is the 1st truly automated communications application exclusively integrated with Filevine's API. Give your clients instant access to their case status, automate your client communications, Filevine Workflows, multi-location Google Reviews, and so much more! Affordable monthly pricing with a FREE 30-day trial and implementations included!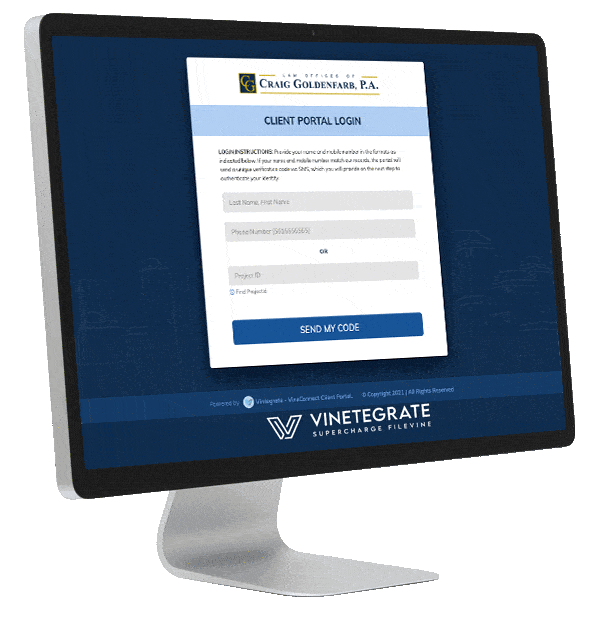 VineConnect™ is designed as a standalone web-based application secured by 2-factor authorization so there are no complicated applications to download or passwords to remember for your clients. Branded with your logos, the front-end of the Client Portal allows your clients to interact with rich text, media, messaging, custom forms, document uploads, and much, much more!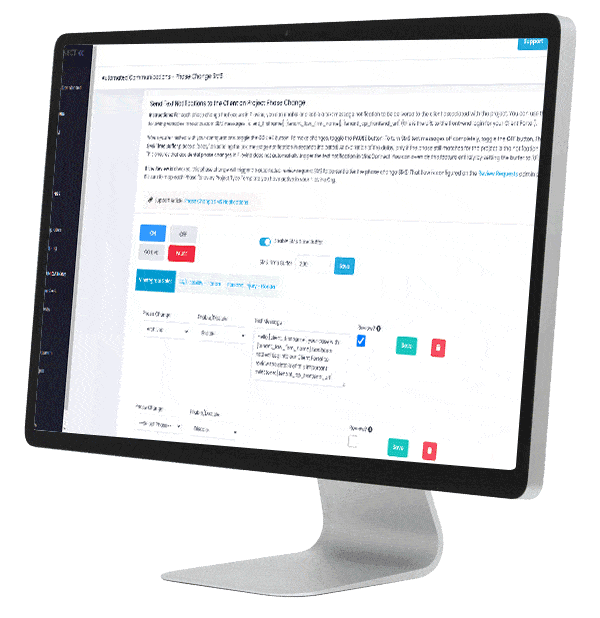 Configure VineConnect™ with Launchpad, our supported implementations guide. 1-time configurations will connect to your Filevine environment, set phase descriptions, timelines, automated SMS messages, Google review requests, Automated Workflows, and notifications.
Invite your clients to VineConnect™ with mass texting tools, and monitor usage and adoption statistics. Chat with our implementations team in real time, get notified of new features, and browse our robust Support Center to fully leverage all the value VineConnect™ offers.
Leveraging Filevine - The Vinetegrate Blog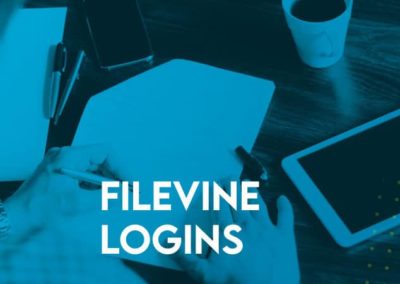 How to Log Into Filevine – Tips & Tricks
Looking for your Filevine login url? We'll show you how to access Filevine and offer some tricks to make logging in easier next time.
FOLLOW OUR LATEST DEVELOPMENTS
Offering FREE Initial Consultations and
Vineconnect Client Portal Demos.