Get in the Fast Lane with Filevine
Charlotte Uptown welcomes SuperVine™, the first partner-led Filevine Superusers Conference led by the certified experts at Vinetegrate! SuperVine is a full-day of main stage speakers and breakout rooms for advanced training and Filevine learning, creating, and doing. Tickets are sold as on-site for those who learn in person, or virtual streaming for those who can't step away from their desks.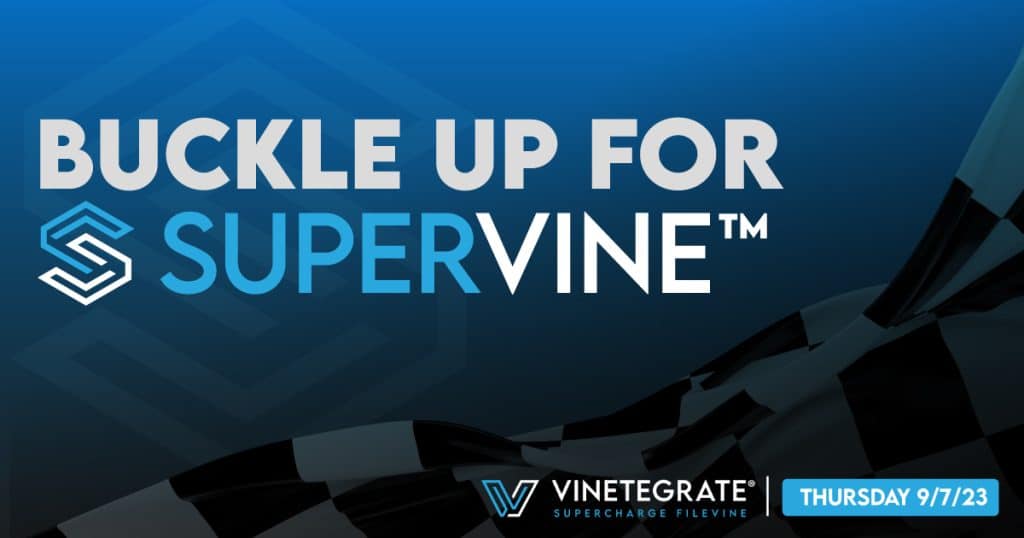 Held at the beautiful Embassy Suites by Hilton Uptown Charlotte, next door to the NASCAR Hall of Fame, it's only fitting that this year's conference theme is racing!
We're proud to announce that for current Suite Implementations of MSP Clients, your virtual ticket to SuperVine is 100% completely FREE for up to ten (10) of your staff! You'll still need to register, so scroll on down and secure your ticket if that's you!
Main Stage Speakers
Join Tom Copeland and Craig Goldenfarb, co-founders of Vinetegrate, as they discuss law, technology, and software enablement and empowerment for teams. Craig will present on leadership cultivation and Tom will lead deep-dives into advanced Filevine tips, tricks, and power-usage.
Nate Morris, Co-Founder of Filevine, will also join us for a keynote and panel discussion on the future of Filevine.
Breakout Rooms
Our Managed Services staff will be hosting various breakout rooms you can join at will for various skill-building sessions, including:
Filevine Core and Ancillary Product Basics and Advanced Training
Power-usage of Lead Docket
Product demos for unique use cases
Problem-solving sessions
Confidence-building sessions for staff who may struggle with Filevine
Recordings
Supervine 2023 Main Stage was recorded in its entirety and is available to view by current clients or by non-clients for a one-time ticketing cost of $499. Get access to seven videos and about six and a half hours of content covering everything from advanced Excel template usage with Filevine reports to training best practices for your staff to how to roll out software to your staff, and so much more!
Once you purchase your ticket, a link will be emailed to you automatically.
| | |
| --- | --- |
| Ticket Type | In Person, Virtual Streaming |
| Client Type | Current Client, Former Client, Non-Client |
Recommended Products & Services
How To Use Our Filevine Marketplace
Browse Offerings
Vinetegrate's Marketplate is full of various licensed products, services, subsriptions, and offerings to Supercharge your Filevine environment!
Make A Purchase
Marketplace is a fully enabled e-Commerce solution. Find your product or service, select configurations, and checkout with secure SSL payments.
Product Delivery
Depending on the product or service you've chosen, various methods of delivery may occur, including installation directly into your Filevine Org for you.
Come Back
At Vinetegrate, we're constantly innovating new products and services that enrich, extend, and enhance your Filevine environment and experience. Check back often!
GOT A GREAT FILEVINE PRODUCT OR SERVICE TO SELL?
Our marketplace is now OPEN for resellers and vendors of great Filevine materials like templates, docs, report fusions, tasks, maps, training materials, apps, and more! As a Marketplace vendor, you'll sell your materials, components, application, or services in a licensed agreement for which you retain copyright. Vinetegrate facilitates the sale and service for a small commission fee.