Reporting and Fusions are the core engine of Filevine that make Filevine so powerful. Without a robust reporting system in place, visibility and accountability cannot be fully achieved. If you've been struggling to plan, design, and build proper reports within your Filevine Org, or you've given up on trying to create Fusions, you're in the right place.
With Vinetegrate's Reporting & Fusion Maps and Templates, you'll have the materials and guidance you need to finally wrestle your Filevine data into submission. Our Reporting Map offers fifteen (15) basic reports every organization on Filevine needs, creating visibility into your projects and most valuable KPIs (key performance indicators.)
With our Report Fusion templates, you can align the fields of your Project Type Template using the map and begin creating robust exports of your data into Word or Excel for important functions like Settlement Statements, Demand Letters, and Case Summary Reports.
This product is a digital delivery of the Taskflow Map from our standard Full Suite components library. Implementation of this work is optional, but highly recommended. With implementation, we will deliver not only the materials, but build the reports and fusions within your Org, including training for the staff. (Note: your project type template may have to change to create new data fields for the reports.)
Sampling of Included Reports:
Projects and Team Assignments Reports
Taskflow Efficiency/Complete Reports
Audit Reports on Filevine Users
Settlement/Income Reports
Collection(s) Export Reports
Settlement Statement and Case Summary Report
With our Reporting & Fusions Map, you have everything you need to build the reporting system you've been dreaming of! Choose Implementation Included to have Vinetegrate build it for you!
Recommended Products & Services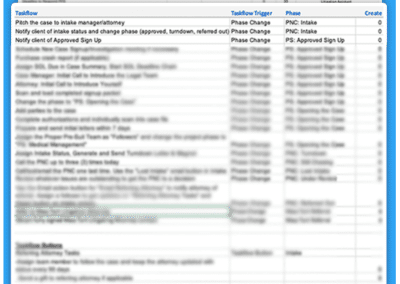 Taskflow Maps
Build the tasking system of your dreams with our Taskflow Maps for various legal practice areas.
Full Suite™
Full Suite™ is our licensed Filevine environments for various law, legal, and professional practices.
How To Use Our Filevine Marketplace
Browse Offerings
Vinetegrate's Marketplate is full of various licensed products, services, subsriptions, and offerings to Supercharge your Filevine environment!
Make A Purchase
Marketplace is a fully enabled e-Commerce solution. Find your product or service, select configurations, and checkout with secure SSL payments.
Product Delivery
Depending on the product or service you've chosen, various methods of delivery may occur, including installation directly into your Filevine Org for you.
Come Back
At Vinetegrate, we're constantly innovating new products and services that enrich, extend, and enhance your Filevine environment and experience. Check back often!
GOT A GREAT FILEVINE PRODUCT OR SERVICE TO SELL?
Our marketplace is now OPEN for resellers and vendors of great Filevine materials like templates, docs, report fusions, tasks, maps, training materials, apps, and more! As a Marketplace vendor, you'll sell your materials in a licensed agreement for which you retain copyright for a small commission fee.